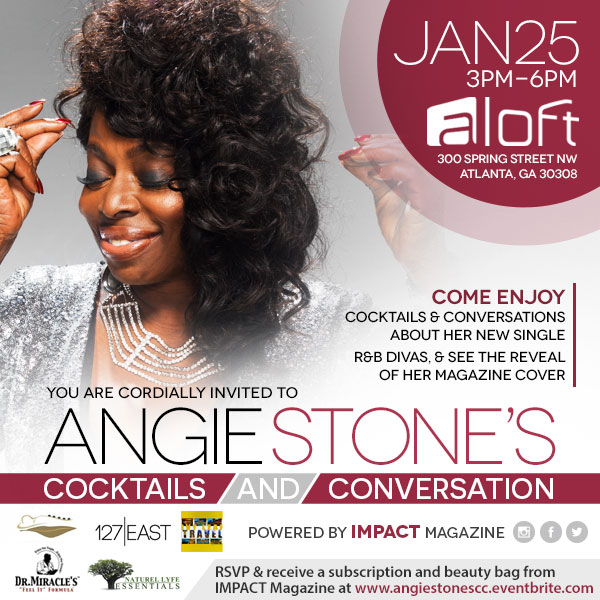 Just in time for the release of her first solo project of 2015, dynamic singer and reality television star Angie Stone covers the January issue of IMPACT Magazine. To celebrate the release of the cover shot by celebrity photographer Derek Blanks, IMPACT will host a Q&A with the songstress on January 25th at the ALoft Hotel in downtown Atlanta, GA.
'This issue is special for us as Angie has always been on our radar for the work she has accomplished. To cover her at such an important time in her career is a honor.' notes Tunisha Brown, Founder and EIC of IMPACT Magazine.
The reception, followed by an intimate conversation with Angie Stone will give the audience an inside look at her life- from the music, including her decision to remake the video for "Brotha" (www.youtube.com/watch?v=-sfPw9ZBxTw), to her stint on R&B Divas, which she has never discussed publicly. In addition, IMPACT will be conversing with Real Housewives of Atlanta star, actress and singer Demetria McKinney, and movie actress Reece Odum on her new movie, 'Imprisioned By Love', regarding domestic violence.
During our cocktail hour, Tiny's Tequila will be sponsoring those tequila infused tantalizing drinks!!!
Be sure to RSVP to receive some phenomenal gifts at the event! With your purchase, you will receive the magazine and a beauty bag with items from Ms. Prity (Soy Butter Sugar Creme'), Naturel Lyfe (Cocoa Shea Butter), 127 East Cosmetics (Hydrating Lipstick), a 3day 2 Night Hotel Getaway courtesy of Ivy Leaf Travel, and Dr. Miracles hair products! Yes…each ticket purchased will have a trip included inside of it…WHILE SUPPLIES LAST! If that particular ticket sales out, that means there are no more beauty bags with getaways to giveaway!
Dress Code is Upscale!
For media credentials or more information, contact info@theimpactmagazine.com