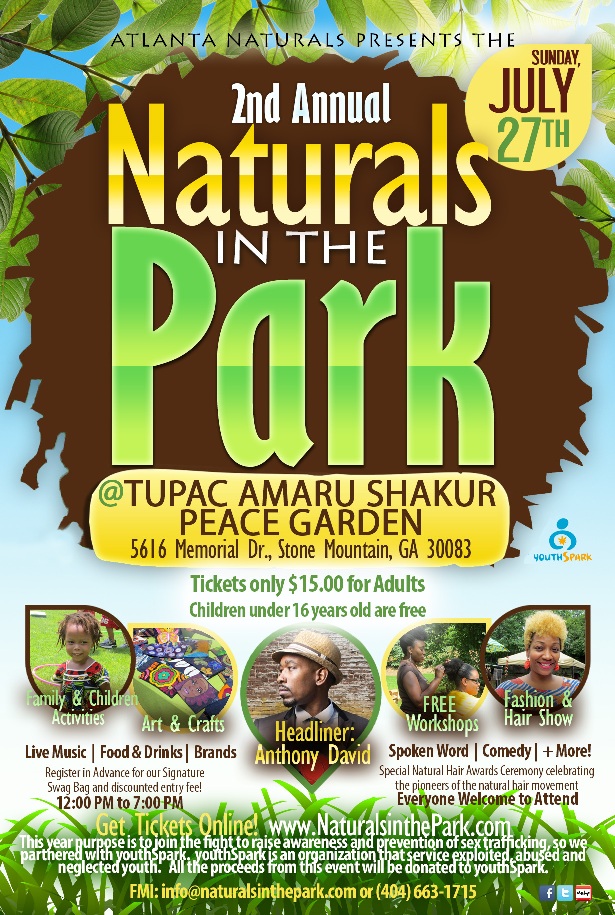 Join us for the 2nd Annual Naturals in the Park Family Festival
Atlanta Naturals hosts the 2nd Annual Naturals in the Park Festival for families in the Metropolitan Atlanta area to promote natural living, family health and healthy hair.  
This year our purpose is to join the fight to raise awareness and prevention of sex trafficking, so we partnered with youthSpark.  youthSpark is an organization that service exploited, abused and neglected youth locally and provide resources nationally.   All the proceeds from this event will be donated to youthSpark.  They will be present to discuss the issues and conduct a volunteer drive to continue to  raise awareness and prevention in our communities. 
Help us by IGNITING JUSTICE AND INSPIRING CHANGE.  
Sunday, July 27, 2014
12:00 PM to 7:00 PM
Back again at the Tupac Amaru Shakur Foundation Peace Garden located at 5616 Memorial Drive in Stone Mountain, GA
Living Naturally – Hair, Body and Soul
This year's festival includes:
Headline Performer: Anthony David

Host: Minista Jazz, Celebrity Stylist and Reality Star

Also performing: Anitra Jay, Real T@lk, Marian Mereba, JK Howells and others

LIVE Performances from Established and Emerging Artists 

Special Guests 

Comedy & Spoken Word 

Fashion and Hair Show

Food & Refreshments

Arts & Crafts Vendors

Natural Innovators Award and Stylists of the Year Awards 

Children Activities and Rides 

Natural Living Classes (Body and Health Care Classes) 

Hair Care Workshops 

Card Games and Dancing Competition for the Family 

and more
Register on naturalsinthepark.com or eventbrite for the complimentary Swag Bag.
$10.00 Early Bird Price (Limited Time Only)
$15.00 Ticket/Gate Price
All Children under 16 are FREE 
Proceeds to benefit youthSpark.org helping to end child sex trafficking.
Learn more at www.NaturalsinthePark.com
Tickets purchased on naturalsinthepark.com or eventbrite are non-refundable,but transferable with proper identification. Tickets purchased through other sources are non-refundable.